Start: March 22, 2019 1:00 pm
End: March 22, 2019 1:00 pm
Independence Avenue at 6th Street, SW, Washington, District Of Columbia 20560
Smithsonian Associate Members
Social Networks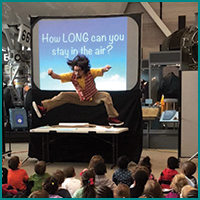 Join wacky citizen-scientist Professor Wingnut and his friend Seymour Seagull as they explore the amazing science of flight! From birds to airplanes, this pair loves all things airborne, and are in pursuit of the secret to just what makes them fly. Songs, science, and a flight-tastic dance party take off right under the planes in the Air and Space Museum. Tour the museum after the show!
No cost for tickets. Reservations are required.
Generously underwritten by the Conrad N. Hilton Foundation and presented in partnership with the National Air and Space Museum.
Official Event Website
Provider
Smithsonian National Air and Space Museum